Mad With Power 6 is ALMOST HERE!
We're two weeks away from the biggest power metal fest in North America! Are you excited? We sure are! Here's some important info that you'll need to make your fest experience as amazing as possible:
TICKETS – PLEASE READ
EVERYONE, no matter what type of ticket they bought, will need to show their Ticketmaster General Admission ticket in order to get into the fest each day. Sign into Ticketmaster.com on your phone, or download the app and sign in, and your ticket will be listed under "my tickets". It should look something like this:
"HELP! I DON'T HAVE ANY TICKETS IN MY TICKETMASTER ACCOUNT!"
If you bought a Gold or Sponsorship VIP ticket, your Ticketmaster General Admin ticket was automatically sent to the email you used to purchase your VIP ticket. Find the email from Ticketmaster and follow the instructions to claim your ticket.
(If you do not have this email and do not have any tickets in your Ticketmaster account, email MadWithPowerFest@gmail.com with your full name and email, and we will re-send.)
If you bought a regular general admission ticket, a regular+Silver VIP, a Friday-only, or a Saturday-only ticket and do not have any tickets listed in your Ticketmaster account, please email Ticketmaster support.
VIP TICKET ADD-ON INSTRUCTIONS
If you bought a Silver, Gold, or Sponsorship VIP ticket, you need to show your VIP add-on QR code at our VIP check-in booth to receive your additional prizes and your VIP pass. Your VIP add-on ticket looks like this, and it came from the Lords of the Trident merch store email (orders@lordsofthetrident.com):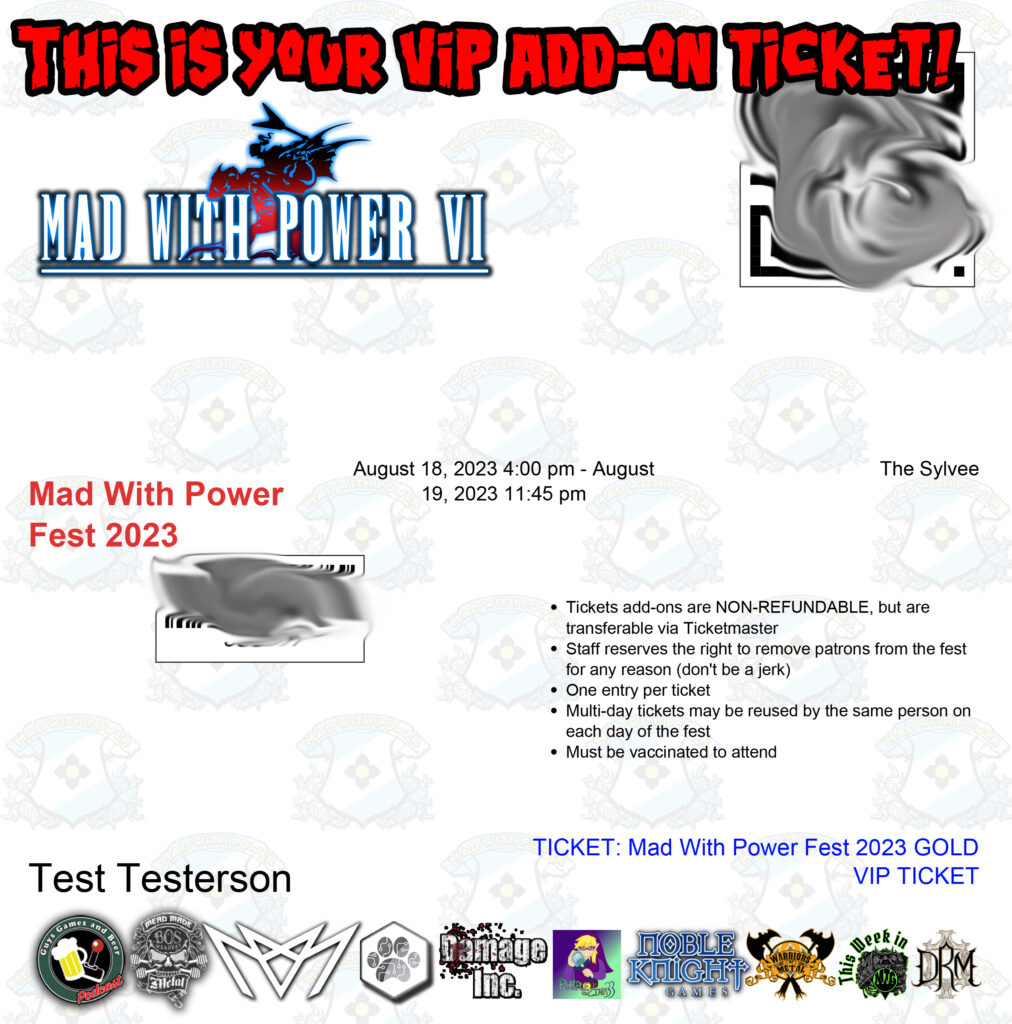 "Help, I don't have my VIP add-on ticket!"
Search for emails from "orders@lordsofthetrident.com". There will be a link in your email to download your ticket.
If you still can't find your ticket, email madwithpowerfest@gmail.com with the subject "lost VIP ticket" and include your full name, email address, and order number (if possible).
Gold & Sponsorship VIP tickets – Important Info
Sponsorship VIPs may attend sound check. This starts at 10:15am and goes until 3:00pm.
Early Meet & Greet for Gold/Sponsorship VIPs is at 3:30pm each day.
You need to wear your VIP pass in order to be admitted to the seating area on the 2nd floor!
SEATS ARE NOT ASSIGNED! Please IGNORE any seat assignments on your Ticketmaster ticket. Those are only there because Ticketmaster requires them. All seating is first-come-first-served.
Please DO NOT ATTEMPT TO SAVE YOUR SEATS (unless you're only getting up for a short bathroom break). Be reasonable, be nice.
Sponsorship VIP box seats are on the 3rd floor. The entrance is near the 2nd floor bar area. There are two available boxes – one with 8 seats, and one with 10. Look for the Mad With Power signage (please don't go into someone else's box!) Same deal here – seats are NOT assigned.
Livestream info!
The entire fest will be streamed at Twitch.tv/LordsOfTheTrident. Please follow our account so you get automatic updates when we go live!
IF YOU HAVE AN AMAZON PRIME ACCOUNT you can watch the fest AD-FREE! Create a Twitch account and link it to your Amazon Prime account by following the instructions here: https://gaming.amazon.com/
Once you have your amazon prime account linked to your Twitch account, you get one free subscription per month. Use that to subscribe to the Lords of the Trident twitch channel, and your viewing experience should now be add-free!
Thursday Night Pre-Party!
If you're coming into town early (or maybe you just live here already), don't miss the official Mad With Power pre-party at Aftershock Classic Arcade! Hang and play games with your fellow attendees, and enjoy some local brews and cocktails! The party starts at 8:00pm, and is just 1.7 miles away from the venue!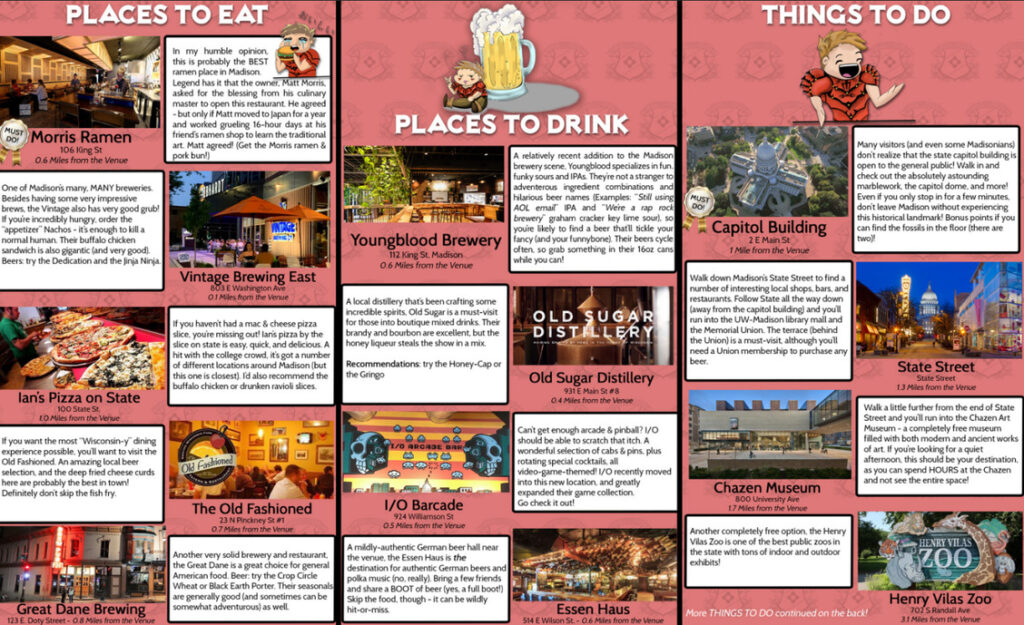 Looking for something to do between the two days of the fest? Or a good place to eat/drink/have fun? Look no further than our official Madison guidebook, Fang's Guide to Madison! Big thanks to Damage Inc. Fight Club for sponsoring this year's guide!
Join the New Wave of Nice Metal Buds!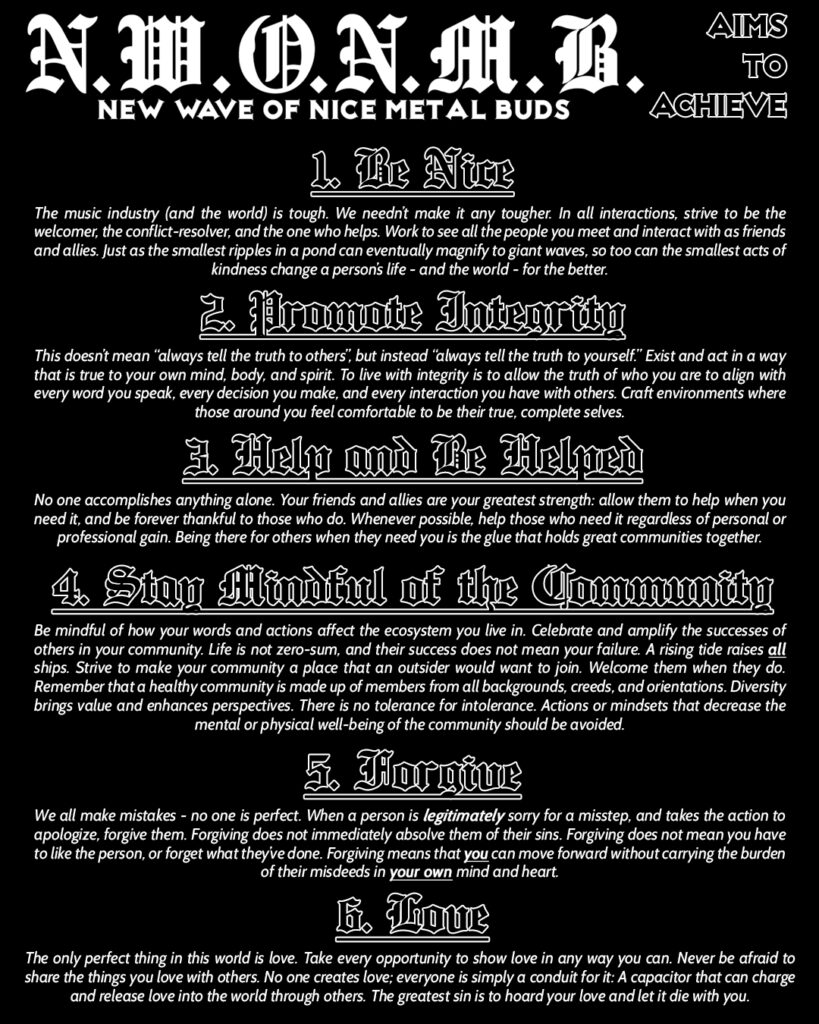 This fest was founded in the spirit of bringing people together. A fest is a great way to meet new friends, or have a "family reunion" with friends who live across the country. Mad With Power Fest strives to live up to the aims to achieve of the NWONMB: the new wave of nice metal buds. We hope that you can hold these aims in your heart as you enjoy the fest and our wonderful city!
COVID, masking, etc.
We've had a few questions on this, so to clarify: masks are not required, but are certainly not discouraged! If you'd like to wear a mask, please do so! Your comfort and safety is my #1 priority.
For proof of vaccination, a picture (on your phone) or photocopy of your vaccination card is A-OK. PLEASE DO NOT BRING YOUR ORIGINAL VACCINATION CARD!! We will accept it, but we don't need anything that official! After all, we wouldn't want it to get lost or damaged. You can also bring a photo or copy of your vaccination records from an official site (i.e. the Wisconsin Vaccine Registry, or the like).
YES, you DO need to be fully vaccinated to attend the fest. Facebook conspiracy theories posted by your uncle do not qualify as a medical exemption.
"What is fully vaccinated?" We've gotten this question a few times. The answer: fully vaccinated means the full round of original shots (or shot, for the one-dose variants). Boosters are highly recommended but not required.