Mad With Power Fest – Get excited! Because the BEST FEST IN THE US is coming up in just one week! And we've got a big announcement for all of you openly weeping in front of your computers, wishing you could be there…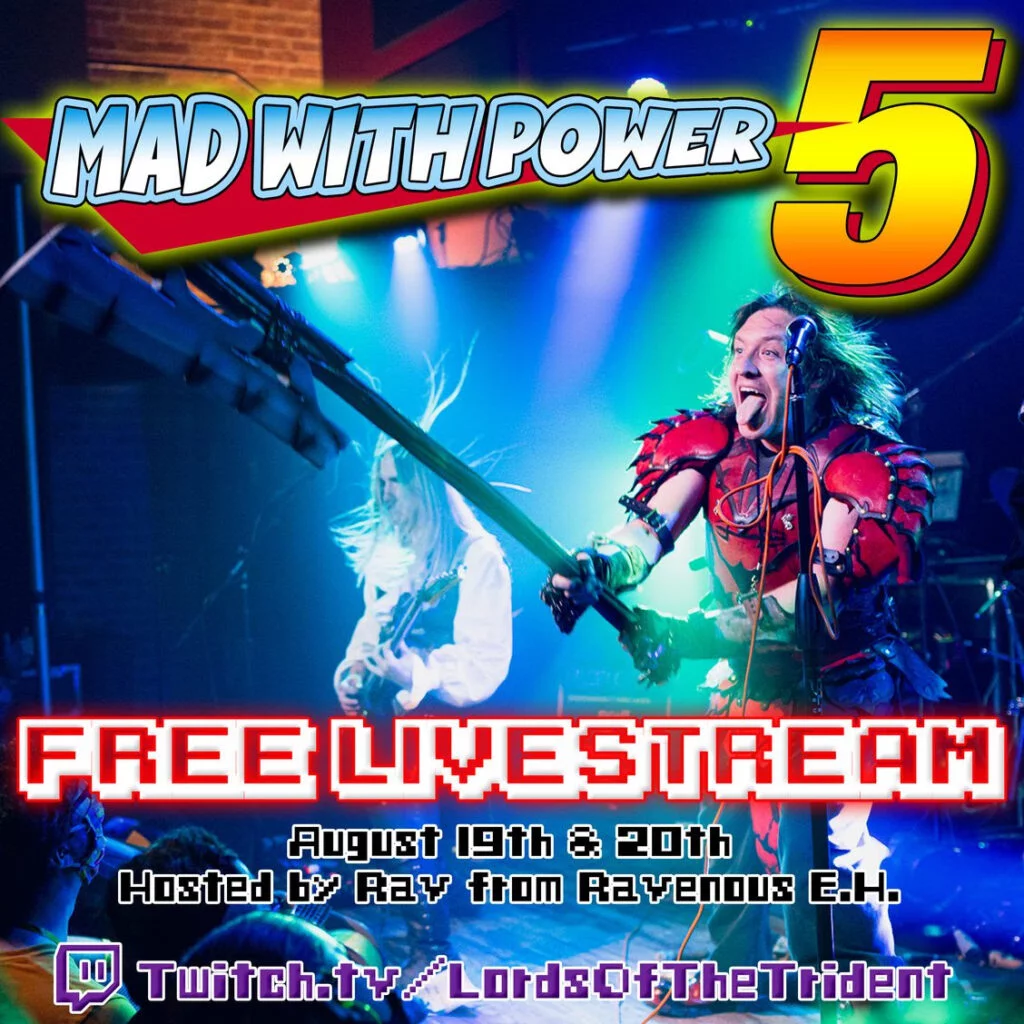 We purchased the same multi-camera livestream rig that Dragonforce uses for their shows in order to bring you a 100% FREE livestream of the entire event! We'll be going live on Twitch.tv/LordsOfTheTrident, so make sure you're following our channel!
Whack that follow button (and subscribe, if you can!)
If you have an Amazon Prime membership, you automatically get one free Twitch subscription per month that you can use to help support a channel! That equates to about $5 for each sub to help offset the costs of the livestreaming rig (around $2,500). You can link your accounts by visiting https://gaming.amazon.com/, and then subscribe to our channel for free!
Coming to the fest?
Here's what you need to know:
The venue: High Noon Saloon, 701 E Washington Ave, Madison, WI 53703
Please make sure to have your ticket either printed out, or available in a digital version. Specifically: we'll need to scan the QR code on your ticket!
Your PayPal receipt is NOT A TICKET. If you don't have your ticket, please email us: madwithpowerfest@gmail.com
Vax cards are no longer required: while the fest still EXTREMELY STRONGLY recommends being fully vaccinated prior to entry (I mean, at this point if you're not vaccinated we're certainly not going to get through to you), Dane county is no longer requiring vaccination checks for entry to events, and the company that owns the venue is following suit. Masks are still recommended, but also not required.
Re-entry: not a problem! You'll get a wristband and/or a laminate (if you have a VIP pass)
Parking: the High Noon's parking lot is VERY SMALL. We would recommend parking either on the street (parking is unrestricted after 6pm), or at The Sylvee's parking lot about 1.5 blocks away. See this map: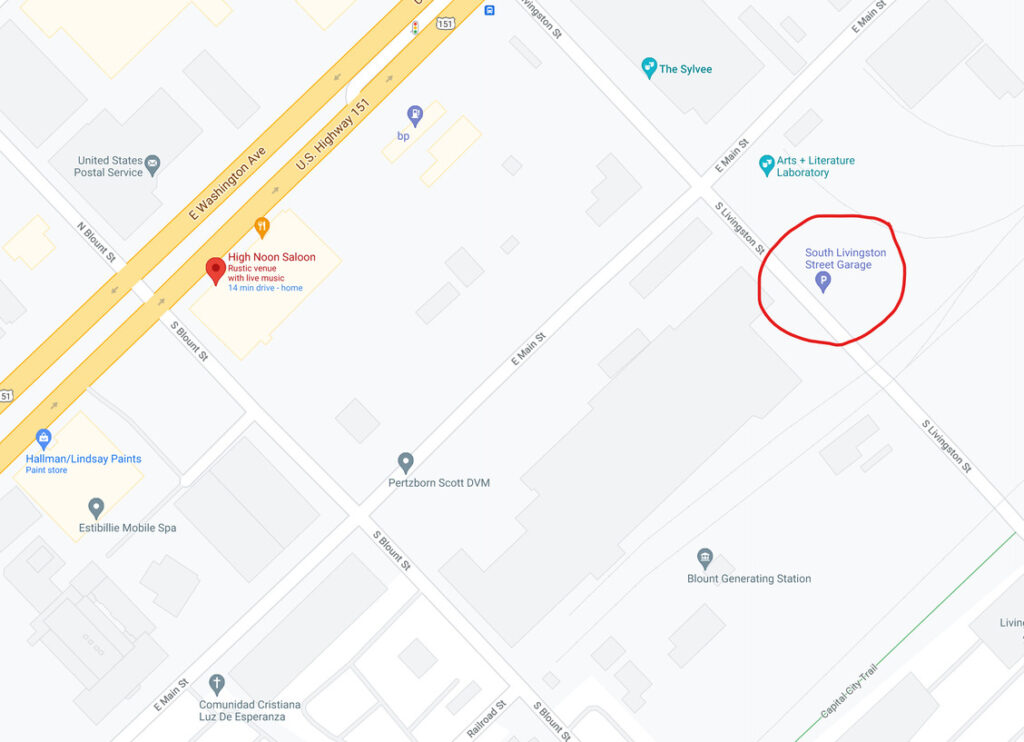 We are SOLD OUT of two-day and Saturday-only tickets. We still have about 20 Friday-only tickets available!
We will have pizza available to purchase by-the-slice on the Patio!
Looking for something to do between the two days? Or a spot to eat? Then make sure you check out: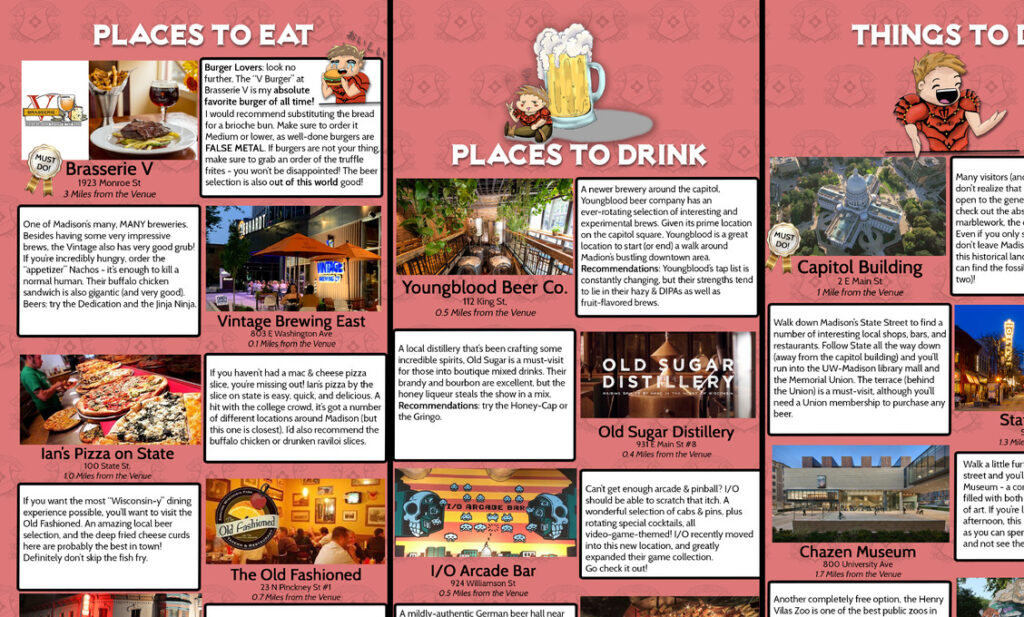 I've put together a nice brochure to help all of you have a GREAT time in our city! This PDF highlights some of my favorite things to do, places to eat, and more!
Speaking of things to do, don't forget these VERY IMPORTANT EVENTS:
THURSDAY NIGHT PRE-PARTY at AFTERSHOCK CLASSIC ARCADE!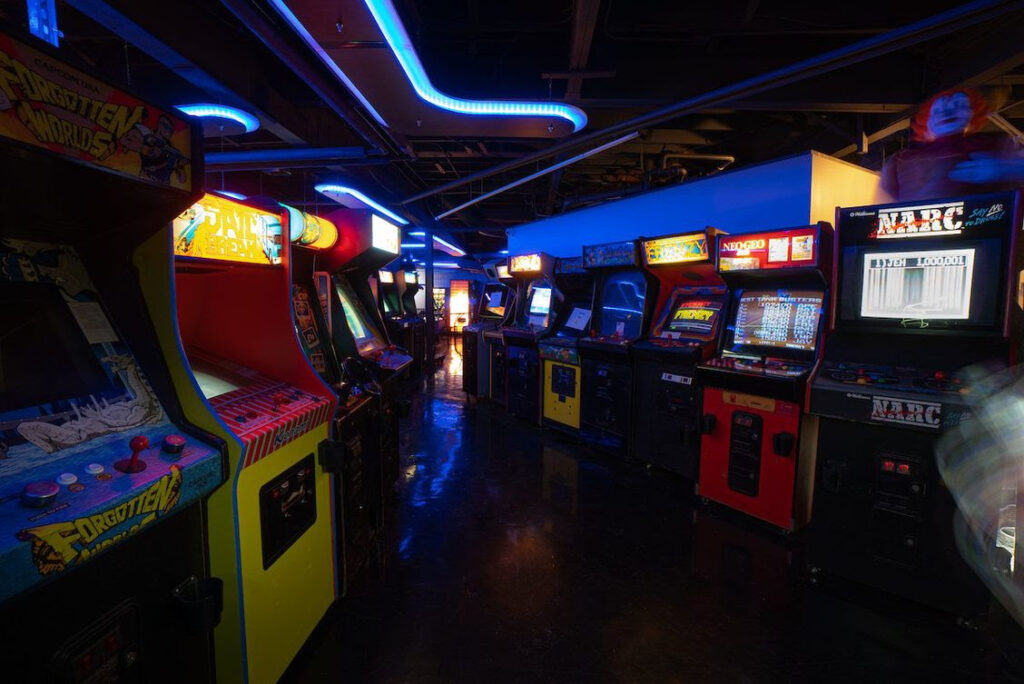 Bring your quarters and hang out with your fellow headbangers at Aftershock Classic Arcade, just about a mile away from our venue! Aftershock will be providing most of the machines for this year's fest, so make sure to give Brad (the owner) a big high five! We'll have some high score tournaments as well, so bring your quarters and get ready to do battle! The party starts at 8:00pm!
Magic: The Gathering Tournament!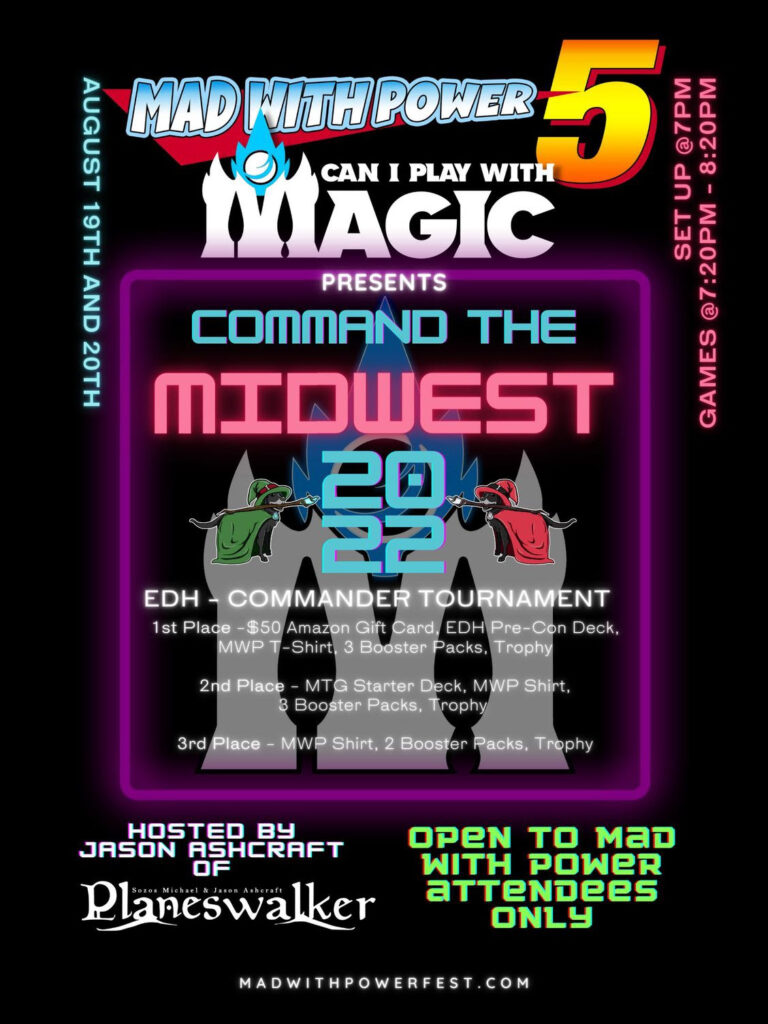 Magic: The Gathering EDH – Commander Tournament at Mad With Power. Only attendees of the festival may join and it is free to play! Hosted by Jason Ashcraft (Helion Prime/Planeswalker/Dire Peril)! PLEASE RSVP TO THE FACEBOOK EVENT IF YOU WANT TO JOIN THE TOURNAMENT!
Bring your strongest decks and prepare to battle it out! We will be offering some fantastic prizes! Most importantly though just remember to have a good time!
There will be two rounds; one on each day.
August 19th and 20th
Set up time – 7pm
Game Time – 7:20pm to 8:20pm
The winners will be announced after the second round on day two.
The games will take place during the "Dinner Break" as we don't want anyone to have to miss any bands or take away from the bands audience. However, because of time set up will need to be around 7pm. If you can talk to me ahead of time and prepare we can have you set up at a pod already so as soon as the band ends you're ready to go.
1st Place – MWP Shirt, $50 Gift Card to Noble Knight Games, Commander Pre-Con Deck, 3 Booster Packs and a Trophy!
2nd Place – $25 Gift Card to Noble Knights Games, MWP Shirt, Magic Starter Deck, 3 Booster Packs and a Trophy!
3rd Place – $10 Gift Card to Noble Knights Games, MWP Shirt, 2 Boosters and a Trophy!
HEAVY METAL CHEESE CURD MASSACRE AT THE FARMER'S MARKET!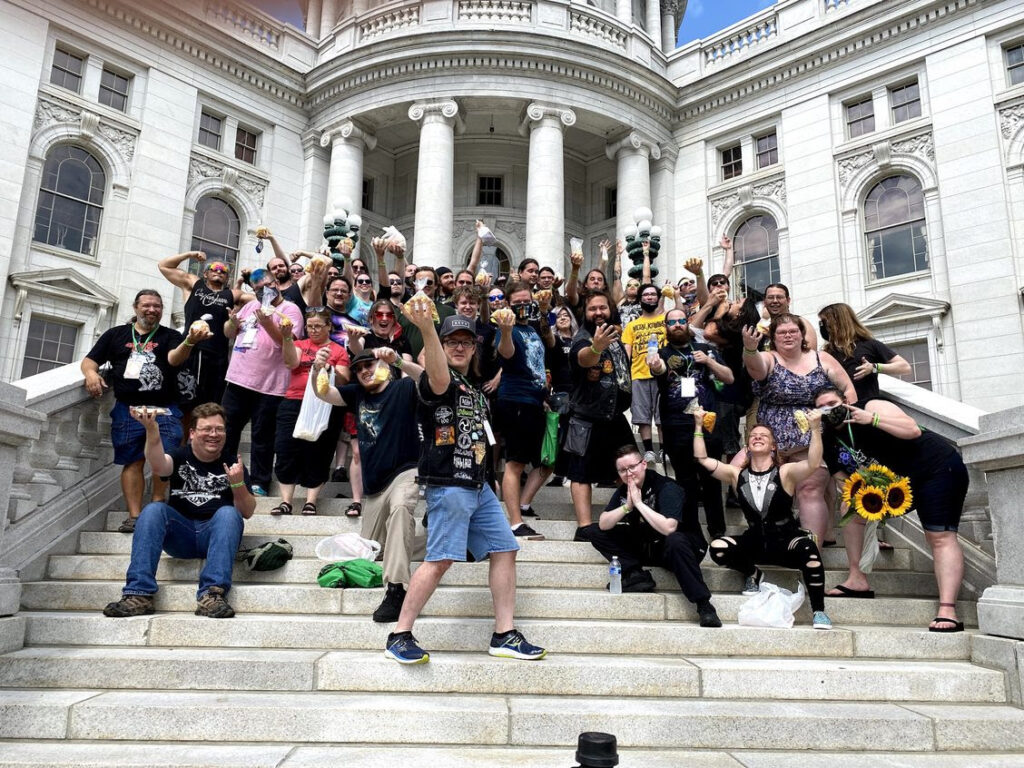 The Dane County farmer's market is the SECOND BIGGEST farmer's market IN THE COUNTRY, and we've got our target set on FRESH CHEESE CURDS! Wear your most metal shirt, your battle vests, etc. and bring cash – we're going to try to BUY OUT all of the cheese curds at the market! There may even be time for a guided tour of the capitol building!
11:30am on Saturday morning. Meet at the top of State Street (State St. and N Carroll St.)
Shang Tsung RETURNS to Mad With Power Fest!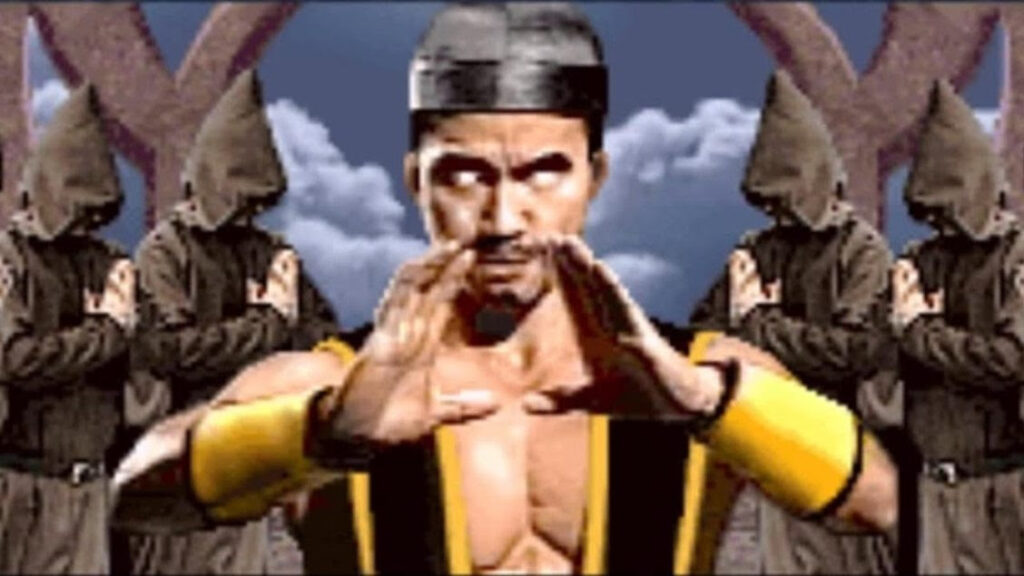 Dr. Phillip Ahn – AKA Shang Tsung from Mortal Kombat 2 – will be signing autographs and taking pictures on Saturday at Mad With Power! We'll have an MK2 cabinet available so you can go head-to-head with Shang Tsung HIMSELF!
Any questions – email us! madwithpowerfest@gmail.com
Hope you're excited! See you all at the fest!
-Ty